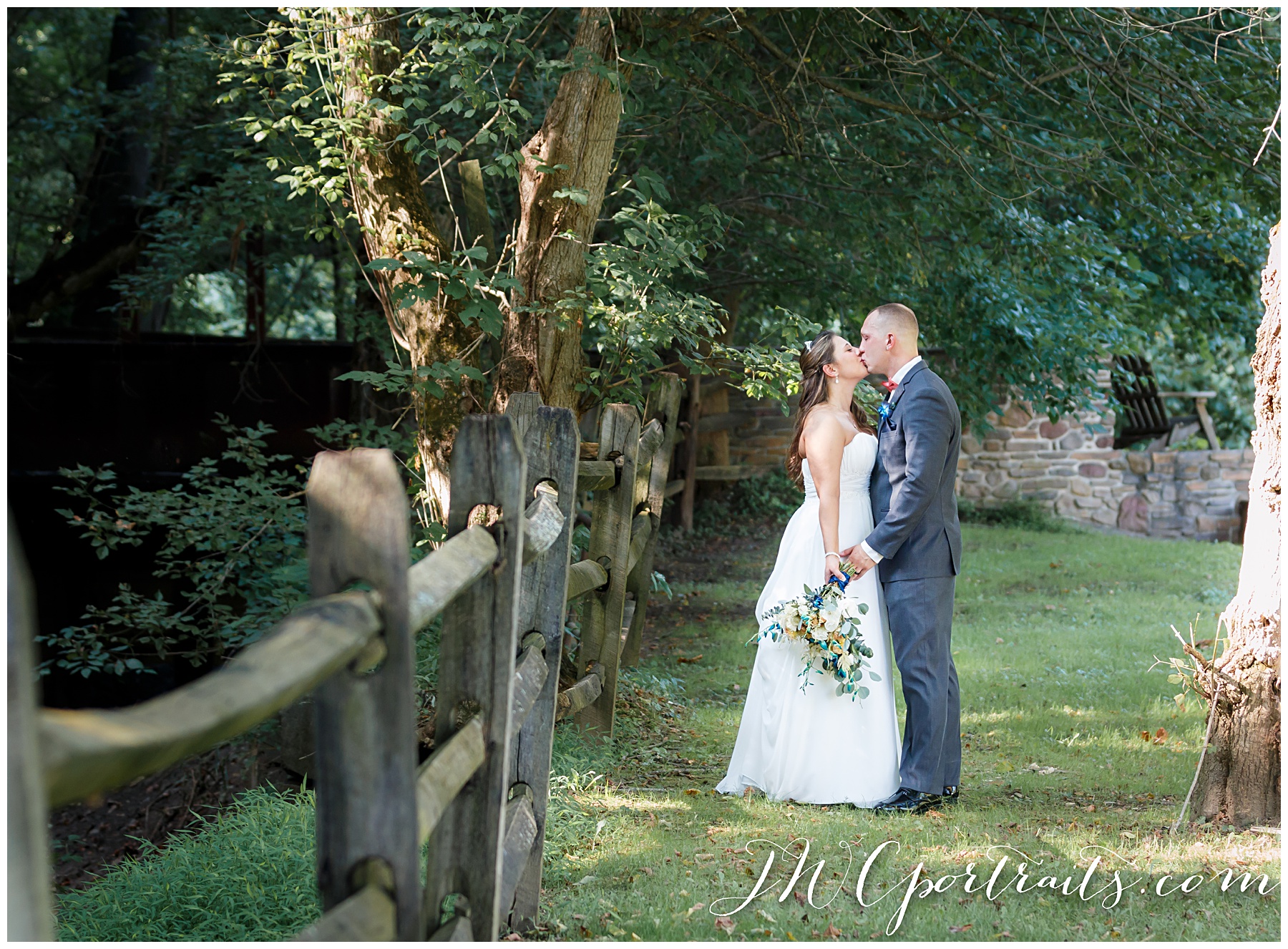 Chet & Kristie introduced me to a new venue, with a long history in Lancaster county, what more could a girl ask for. It was a beautiful August saturday, after watching the weather all week it went from a strong 80% chance of storms to it being clear for the ceremony. The sun was shining and the creek babbled in the background, Sickman's Mill is a picturesque location for a wedding.
With the picturesque venue it was easy to find so many places that I wanted to photograph. And Kristie and Chet planned a beautiful wedding and picked one of my favorite color combinations; coral and navy. The bright colors of the flowers were a great addition to the beauty that surrounded the bride and groom.
The time for the ceremony rolled around. Friends and family gathered near the creek. There wasn't a dry eye in the crowd as Chet watched his little girl walk down the isle. As everyone moved into the tent for the reception, it was a party that everyone laughed and had a great time. The reception included a little karaoke by the flower girl, how can one not smile when you hear "Let it Go!" And when the clouds opened up, the wedding coordinator and the crew of Sickman's Mill did everything possible to make sure that the party did not stop. ( I would recommend Simply Elegant Affairs in a second, she went above and beyond!) The dances were magical and it was so sweet to see how Chet and Kristie looked into each other's eyes with nothing but love. And as stated in the ceremony, Love is Fun, and Chet and Kristie did not disappoint as they smashed their cake into the maid of honor and best man's faces. A dance off and little kids jumping into mud puddles, all around fun! As the night and the drinks continued the bridal party ended in the creek to cool off after the heat of the day.
Love is fun, and Kristie and Chet were the embodiment of that statement. Thank you for allowing me to be part of your day and I wish you a lifetime of fun!